The Rev. Dr. Ken Rushing, Vicar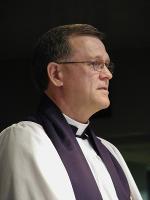 Fr. Ken Rushing is the Vicar of Holy Trinity Anglican Church. He also serves as adjunct professor in the department of Theology at Trinity College of Florida, is the Director of Information Technology for the Robert E. Webber Institute for Worship Studies and owns and operates Rushing to Serve, LLC, computer services. Fr. Ken surrendered to the ministry in 1978, was ordained a Baptist Minister in 1982 and served churches in Mississippi, Texas and Florida. In 2001, he resigned the Baptist Church and started seeking God's desire for his continued ministry. He embraced Anglicanism and was ordained a Deacon in 2005 and a priest in 2009. He founded Holy Trinity Anglican Church, here in Plant City, FL shortly thereafter.
Fr. Ken graduated the University of Southern Mississippi with a Bachelor of Church Music degree in 1982, Southwestern Seminary with a Master of Music degree in 1985 and Doctor of Worship degree from The Robert E. Webber Institute for Worship Studies in 2002. He has done additional studies in Sacraments, Word and Liturgy with Anglican Mission in America.